Below you will fine our breakdown of body type descriptions. This will give a good sense of how your pup will grow.
SIZE
X-small (1pt) Small (2pt) Medium (3pt) Large (4pt)
BODY TYPE
Athletic (1pt) Moderate (2pt) Bully (3pt) Extreme (4pt)
HEAD TYPE
Mild (1pt) Moderate (2pt) Bully (3pt) Extreme (4pt)
Our BULLY SCALE helps to understand how "Bully" your pup will be as they grow.
For example: a small pup with a with a moderate body & bully head = 7 on the BULLY SCALE
Head & Body types from puppy to adult

So…how do you know what kind of head and body your pup will have?
And how do they look as they are growing up? A picture is worth a thousand words:
HEAD TYPES OF OUR ACK BULLDOG PUPPIES
Im going to start with Lamby because I have a lot of photos of her up to 1 year of age. Lamby is a Harley Sr. daughter (Chesty, my new sire, is her full brother) and she was a somewhat leggy pup...remember, these photos weren't picked for cuteness, they are to show specifics in head and body morphing.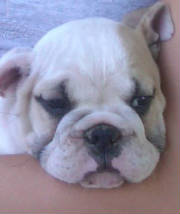 see the nose @ 9 wks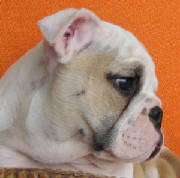 11 wks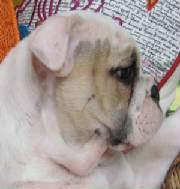 14 wks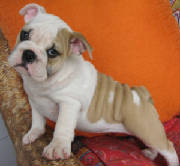 Lamby at 11 wks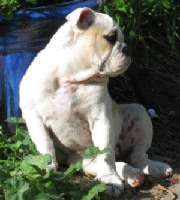 18 wks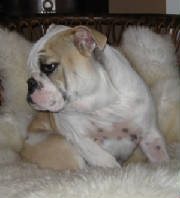 24 wks (6 mos)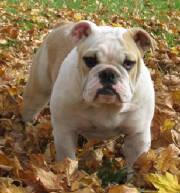 24 wks (6 mos)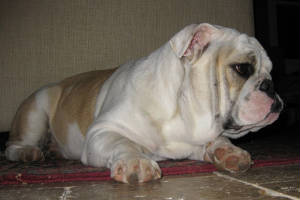 beefing up @ 8 mos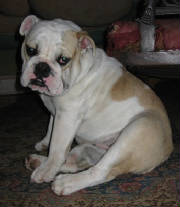 beefing up @ 8 mos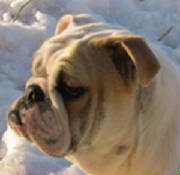 1 year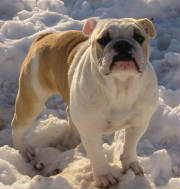 1 year[/caption]
At 1 year Lamby has her adult shape but still hasn't developed her head and chest to maximum width...That gradually happens from year 1 to year 2...she ended up a with a gorgeous feminine head and very wide chest. I hope to get a few photos of her as a 2 year old soon...watch for posting
Tootsie is very short backed, flat faced and barrel chested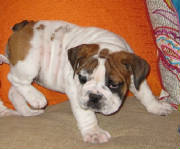 Tootsie @ 8 wks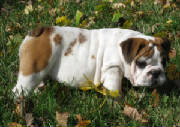 11 wks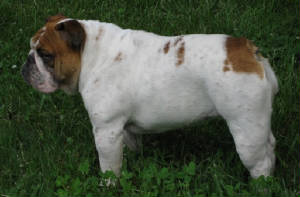 9 mos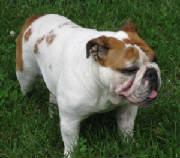 9 mos
This is Rosie...she was very long and narrow nosed with virtually no wrinkle as a pup. She was also a long-legged and narrow puppy...Rosie, at 2, remains very athletic and still jogs 2 miles a day with her owner: