2009 through 2011...all the way back to the beginning!!
I still remember all these little cutie-pies and enjoy seeing grown-up photos of them...
QUINCY is a fundraiser for Bishop O'Connell HS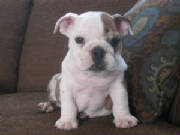 IGGY-POP is now appearing in Fredricksburg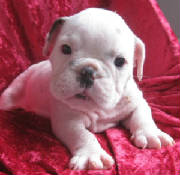 Mississippi is going to love little IKE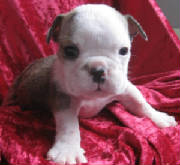 ISSAC went home to PA with the Elmers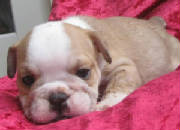 DOBIE was Annie's special holiday gift giving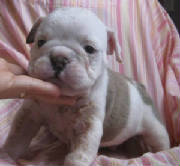 Kevin, Amy, Porter & QUERIDA are a fantastic match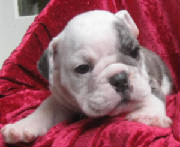 Theresa needed her little DARLING by her side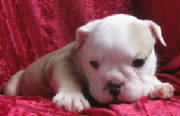 Santiago & Carla were CHASE'd home to South Riding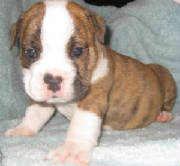 Miguel has been waiting for his solid white SUMO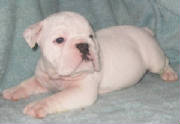 ABNER went home with the Umsteads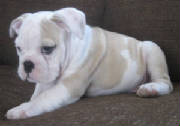 Lisa & Bill picked their ROSEBUD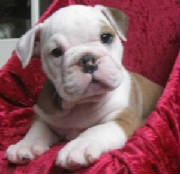 it is RAINing in McLean at Scott & Lauren's house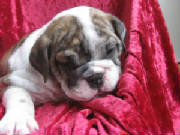 REGINALD is Dr.Meadows' assistant in WV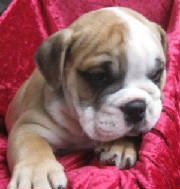 Patricia & ROXIE are hanging out in Hayes VA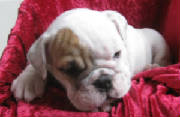 Anne surprised her mom with DOTTIE for Christmas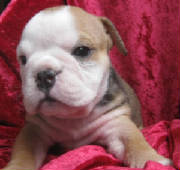 the Fischel's carried Q-T-PIE away to NJ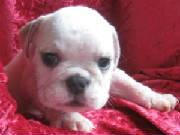 Lindsey & Will added a little CLOWN in Richmond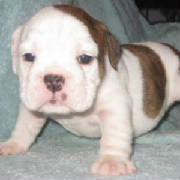 SUZIE-Q is stealing Frank's heart in Richmond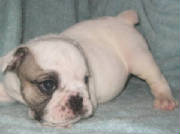 CALEB is the guy for Liz & Andy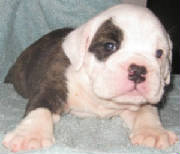 GABBY is Anna's " Happy Birthday" girl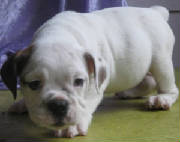 GRACIE got to join Kelly's crew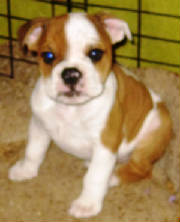 dainty little GIZELLE is under Burton & Su's wing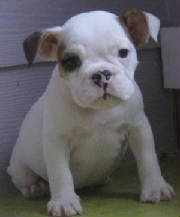 I had to let Mark, Erin & PEARL have FATBOY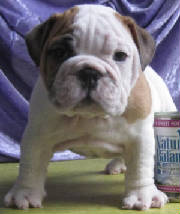 Connor & BRUBAKER are hanging out together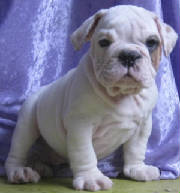 Dave got PETULA to be ROLLY's girlfriend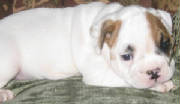 WALDO is off to be a California boy with the Jones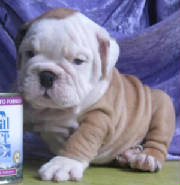 Jennifer & Michelle are going to love SEBASTIAN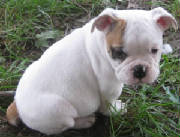 GOLDILOCKS was just right for Stephanie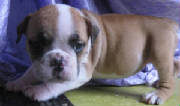 WILLOW gets to cuddle with Chris & Morgan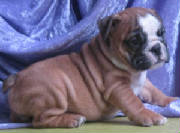 VIKING sailed off to Frederick MD with William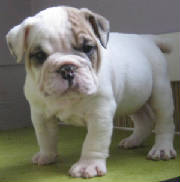 Joseph & Deborah love little VIVI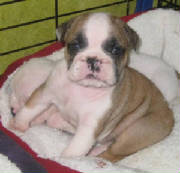 FIFI will be the "life is good" shop girl in DC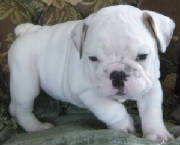 see her with Jeff in Old Town Alexandria & Nat'l Harbor stores Steve & Naht adore CLEMMIE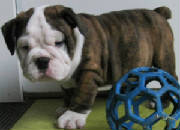 DENNY is Monika's little man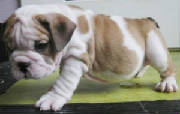 the LeBlancs welcomed CRASH to their lives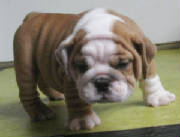 CHESTER is Bella's new playmate thanks to Jessica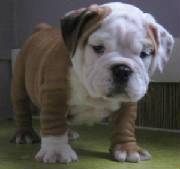 PADDYWACK will fit right in with Jeff & Kelly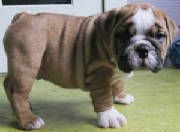 SHEILA is off with the Millers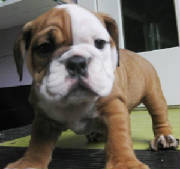 Martha scooped up SOOKIE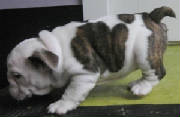 REGGAE & RUPERT got to stay together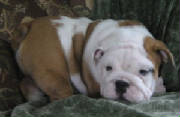 Reggae is Avery's little troublemaker RUPERT is Sydney's snugglepup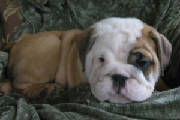 Beautiful RHIANNON was scooped up by Brandy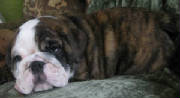 tiny GEORGETTE found her perfect mom in Teresa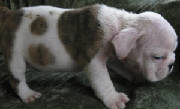 Anna & Dwayne picked a perfect DAISY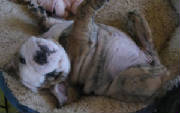 PANDA is with the Darling girls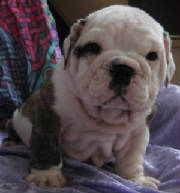 FABIO is giving Lynn kisses in Annapolis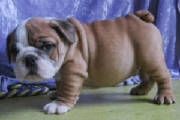 PHOEBE is playing with Irelynn in Vienna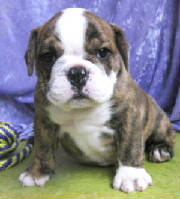 FRISCO is with Tanya & Berta(ROXY)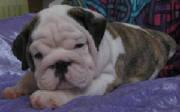 DEMI went home with the Artiles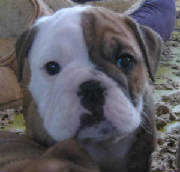 DAPHNE is in Warrenton with Georgia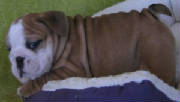 USHER is a New Jersey guy now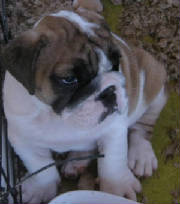 the Feekos just love LUCY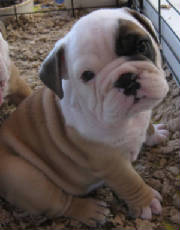 Erin & Tony scooped up EUGENE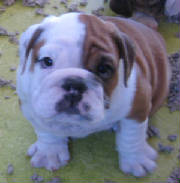 SCOOTER has snuggled up to Lilly Paige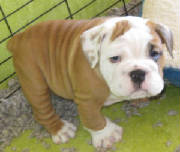 SWAYZE is Tim's big guy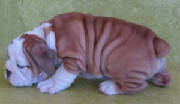 WILLOUGHBY is Sean & Rachelle's boy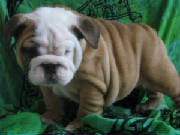 ZAZU & ZEPHYR have joined Linda's gang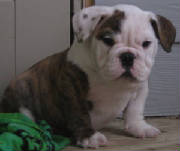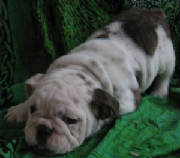 along with Adam, Megan & Bethany...thanks for the lovely wine & chocolates you guys!! The Hollomans were lucky enough to grab ZEKE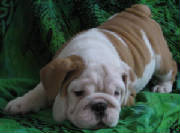 WAVERLY is off to be a D.C. girl with Michael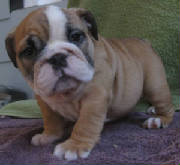 Jenna is taking her ANGEL home with her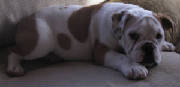 CHLOE gets to go home with Christina & Mike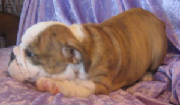 LOGAN is Vincent's little bully boy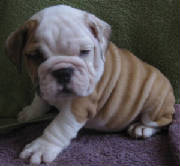 WOLFGANGs off to be the big guy in Deborah's home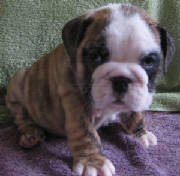 Patricia fell in love with SAMMYMAN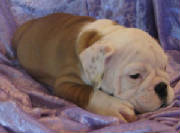 PRETTYBOY is SOLD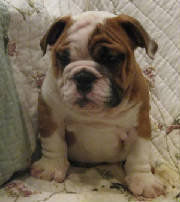 PIPER is SOLD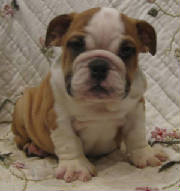 CICELY is SOLD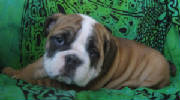 CISCO is SOLD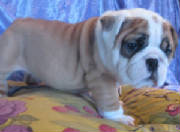 CLARK went off to Florida with Brian & Michelle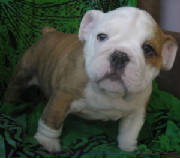 ANNABELL is off to harass the pugs at the Stern's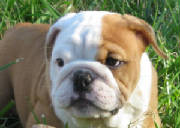 ARIANA is SOLD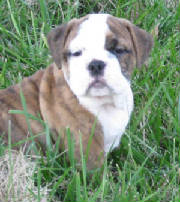 AUGGIE is SOLD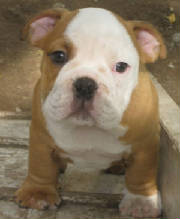 LINUS is Georgetown's newest heartthrob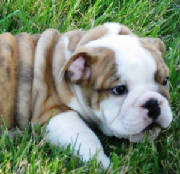 LENNY is SOLD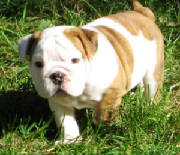 ROXY is Tonya's sidekick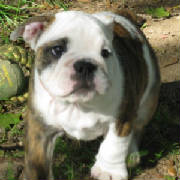 REGGIE is SOLD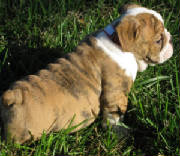 ROLLY is SOLD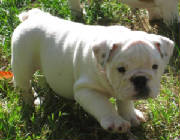 REEBOK is SOLD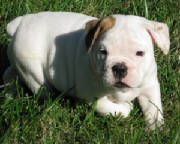 REDFORD is SOLD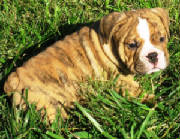 BUSTER is SOLD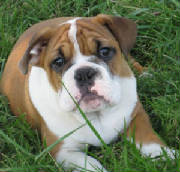 Nitro/Que breeding BINKY is off with the Grammers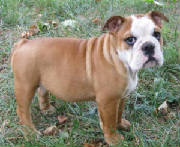 Harley Jr./Little Girl breeding BLUE is Moe's little big man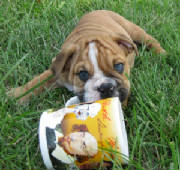 Harley Jr./Little Girl breeding BAXTER is Andres wrestling buddy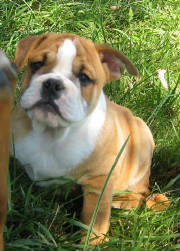 Harley Jr./Little Girl breeding gorgeous PEARL is now Mark & Erin's babydoll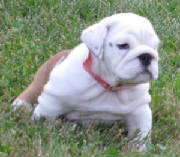 Sarge/Sweetvine breeding TINK is #2 bully for Erik & Veronica (& CHARLIE)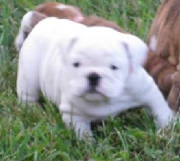 Nitro/Que breeding Bud & Nan got MAX...LACY went with the Sullivans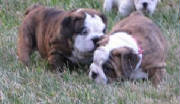 Sarge/Sweetvine breeding on both of these pups ZEUS is in Vashti's family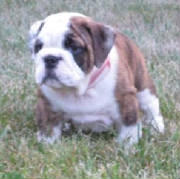 Sarge/Sweetvine breeding BENNY is Jon's little guy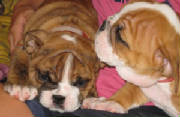 Sarge/Foxy breeding WALKER walked off with the Loys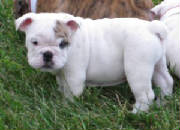 Nitro/Que breeding BRUTUS is SOLD to the McHales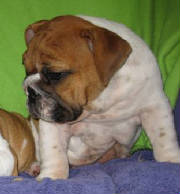 Tootsie's line Adam scooped this gorgeous POOH-boy up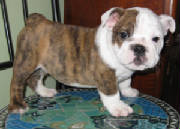 Harley Jr./Chicago breeding ICEMAN is Barb's baby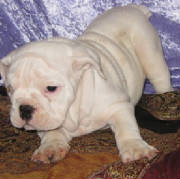 Nitro/Atlantis breeding BEAUTY is a Samuelson now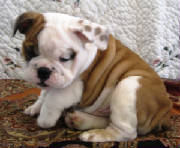 Nitro/Atlantis breeding PATSY is Cindy's tiny girl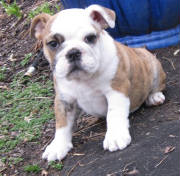 Harley Jr./Snowball breeding SALLY is now a Samuelson too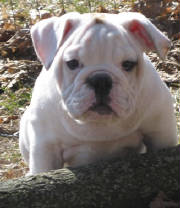 Nitro/Panda breeding CLEMENTINE is SOLD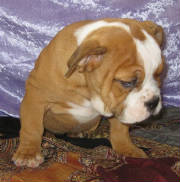 Muchata/Ruby breeding BOOMER is SOLD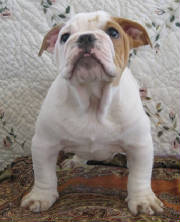 Nitro/Samantha breeding SODA POP (Bianca) belongs to Moya & Hubby Bob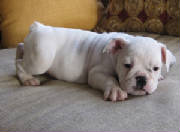 Muchata/Princess Breeding CHESTY is our newest stud for Fall 2011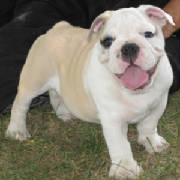 Harley/Little Girl breeding [/one_third][one_third] San Fran will never be the same with SYDNEY there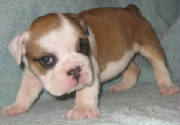 POOH is Betty's boy in Germantown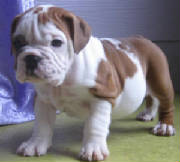 PANSY made a very happy birthday for Haley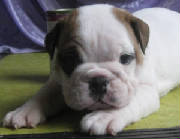 watch for FINNIAN in Boston with Reed & Jemma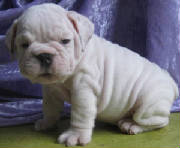 PADDINGTON is part of the Nagy family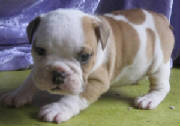 WINIFRED is in Fredricksburg with Patricia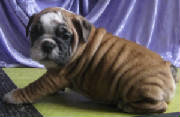 VIOLET stayed in the US with the Garzas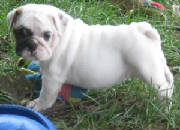 VITO is off to Boston with Ryan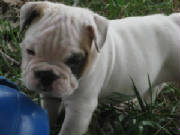 Shari & Lee swept FERRIS off to PA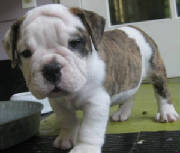 Earl & Delores scooped up lovely LONNIE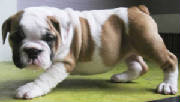 Happy 30th Birthday Jason...from Carla & PAISANO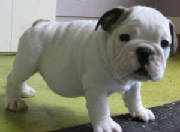 PUDDLES was scooped up by Jenn & Erin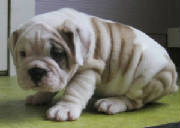 CHELSEA is now one of the Wiseman clan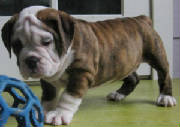 LUCAS ran off with Scott & Amy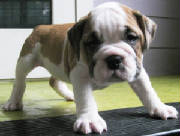 FRANKLIN is Michelle's newest man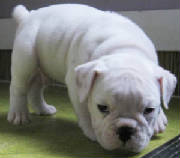 Kathy got the beautiful PRIMROSE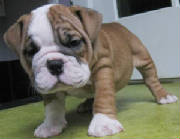 FANCY will be a beach girl with Cat & Jeffrey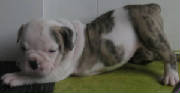 Adela got CALLIOPE from The Hill School auction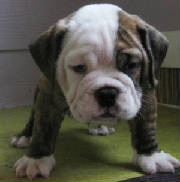 PATCH is hanging with the Zimmermans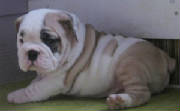 Mark & Irene picked PORTER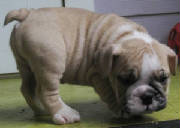 BEAUREGARD is a Baltimore boy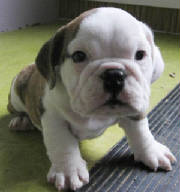 Kennedy & Garrett love little BEBE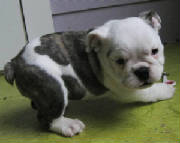 Anthony, Elena & Vincenzo adore PERCIVAL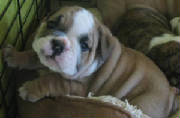 Patrick & Crishaun are in love with PRINCESS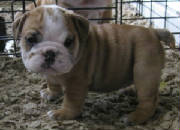 What a great Father's Day gift PEREGRIN made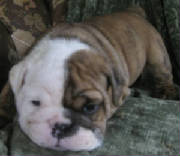 SPARTICUS took Turk's place and loves Caicos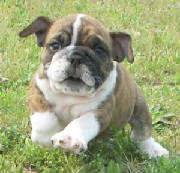 SINBAD went to the winner of the ARTSQUARE auction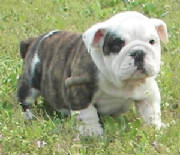 SPUD gallumphed off with the Wykoffs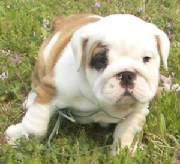 Chris is hanging with FERGUS in Chantilly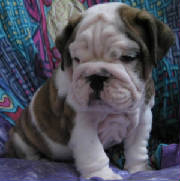 Lucky PEANUT is another of Monica's "project pups"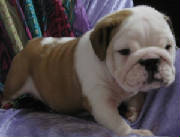 Rachel & Jeff think FRANKIE is the bomb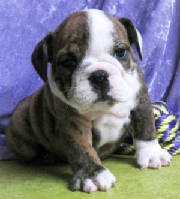 Watch for FINNEGAN in Germantown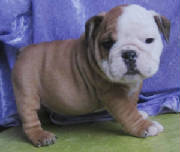 Jim is off to play with FRAZIER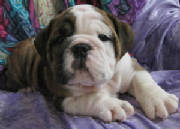 Wiiliamsburg is DARBY'S new stomping ground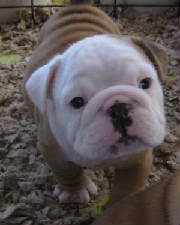 Michelle & Gary welcomed DASHIELL to their family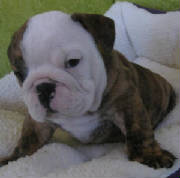 Michelle & Gary adore LOLLYPOP too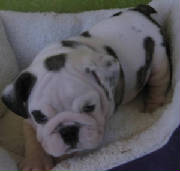 DEXTER is Colorado bound with Dina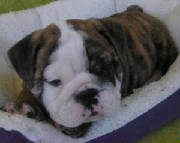 ZELDA went home with the Thomasons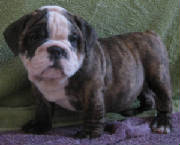 Kelli couldn't resist ZED's charm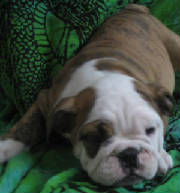 Zanny is a member of the Foust family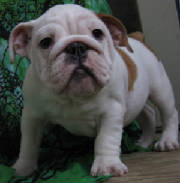 ZOE is off to Culpeper with Misty & Justin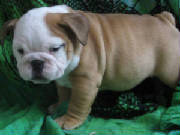 ZANDER was made to be Charles' boy....what a pair!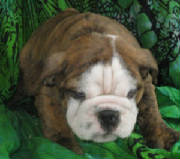 LOLA gets to be a member of John & Luanne's family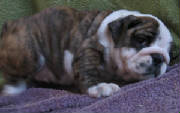 Cindy & Jeff grabbed LEVI right off!!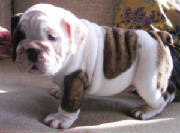 PATCHOULI is Devin's sweetie-pie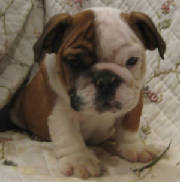 PATRICK went off with Patrick!!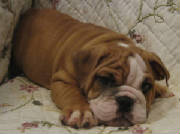 CYRUS is SOLD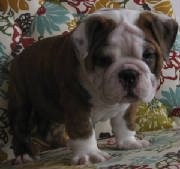 QUENTIN is SOLD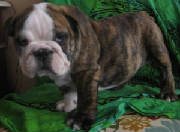 QUIGLEY is SOLD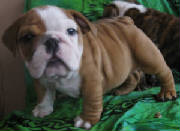 Andy took PERSEPHONE home with him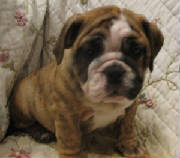 CLAIRE is going to be a mommy for us at my kennel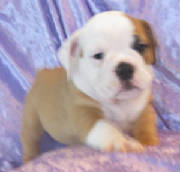 LEGOLAS is with the Patriarca clan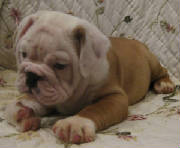 LEOPOLD is SOLD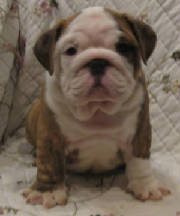 CLANCY is off to New Jersey with the Hildbolds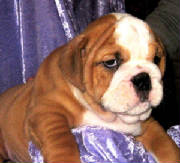 CLEON is "PIPPIN" at Sugarplum San Francisco site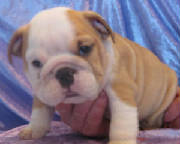 CLYDE is SOLD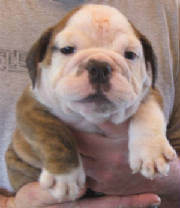 CALVIN is SOLD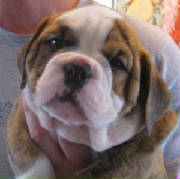 FROSTY is SOLD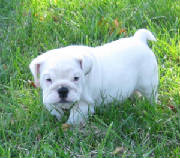 JUJUBEE is SOLD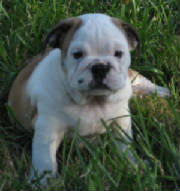 FLOPSY is SOLD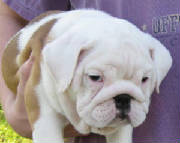 GALLAGHER is off to be a star with Pablo & Andrea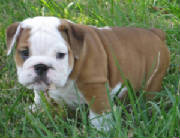 REUBEN is SOLD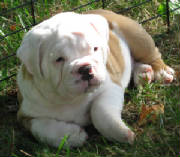 ARTEMIS is SOLD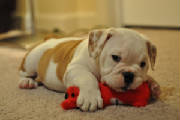 ALISTAIR is SOLD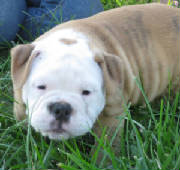 GIDGET is Jamie's showgirl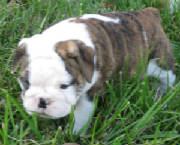 ALFIE is SOLD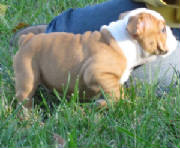 JAX is Lindsay's cuddlebunny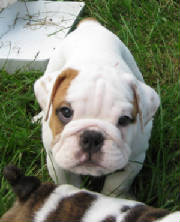 Nitro/Pebbles breeding MOLLY is hanging out in Baltimore with Lindsey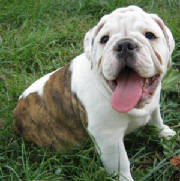 Sarge/Jessy breeding MERCEDES got to go home with the Albans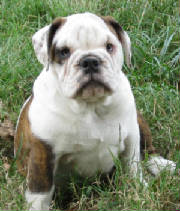 Sarge/Jessy breeding MICRO-mini MISSY is Christy's little doll now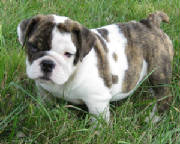 Sarge/Jessy breeding MARIGOLD is happy to be with the Pattersons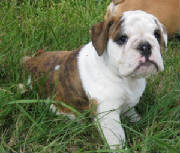 Sarge/Jessy breeding FANCY a part of the Timmons family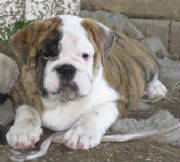 Nitro/Que breeding JEB belongs to Elise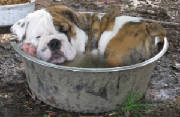 Sarge/Foxy breeding JUNEBUG is with David & Rebecca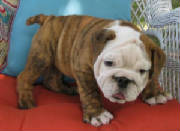 Sarge/Foxy breeding SASSY is off with Doug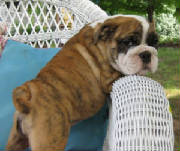 Sarge/Sweetvine breeding OLIVIA is part of the Burner entourage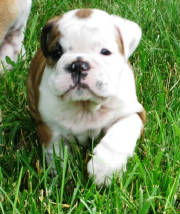 Jezabel's line ELLA went home with the Andres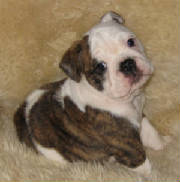 Nitro/Sage breeding NAPOLEON went home with Brooke & Jason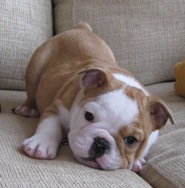 Harley Jr./Chicago breeding STELLA (Bindi) rules Larry & Betty's roost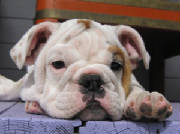 Muchata Clown breeding TIMMY went to Joey for his 21st birthday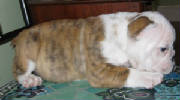 Harley Jr./Chicago breeding Diesel gets to be Bella's boyfriend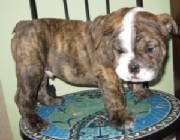 Harley Jr./Chicago breeding TUCKER is SOLD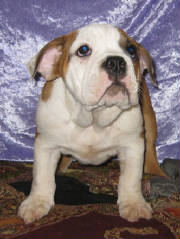 Muchata/Ruby breeding BOWZER (Gus) is SOLD to Laura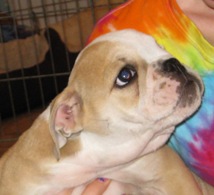 Harley/Queenie breeding BENTLEY gets to be Kelly's boy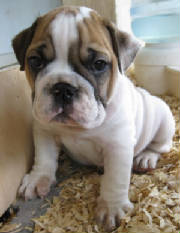 Tootsie's line BREWSTER took Sally's place with the Newmans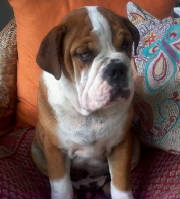 Muchata/Ruby breeding MISSY was a micro-mini & went home with the Gales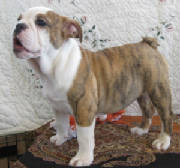 Harley Jr./Becky breeding TEDDY is SOLD to Scott & his lovely girls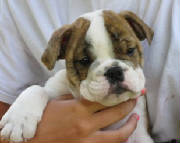 Muchata/Clown breeding LILY and PIRATE went home together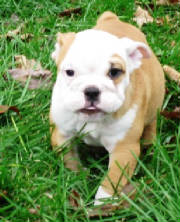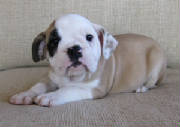 CHURCHILL is Scott's best buddy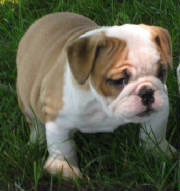 Nitro/Lucerna breeding DELILAH is Alex's sweetie-pie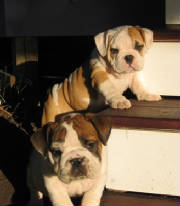 Thad/Debbie breeding BRUNO is a new member of the Miller family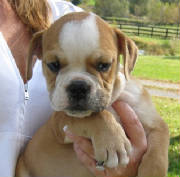 Harley/Queenie breeding OLIVER (Taz) is now Lauren and Nelson's boy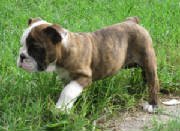 Muchata/Clown breeding SCARLETT is happily a part of the Haskell family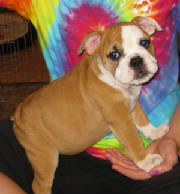 Harley/Queenie breeding BANGER is now a part of Dave's family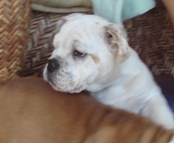 Thad/Tail breeding DUDE is SOLD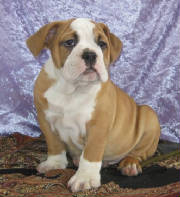 Nitro/Atlantis breeding MOOSE went with Jessica & Adam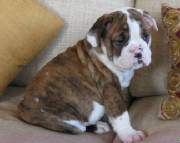 Muchata/Princess breeding [/one_third][one_third] DARWIN and IGNATIUS headed down to FL together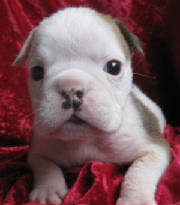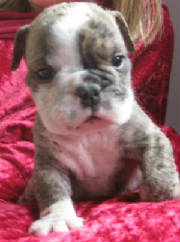 Connie scooped up DABNEY for the holidays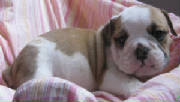 Jake & Ashley are crazy aout DENNIS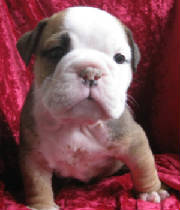 Molly knew right away that QUENTIN was the one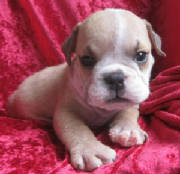 Sugarplum #2 for the Arbores: ISABELLA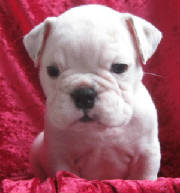 Kat & LOUIE welcome the lovely COCO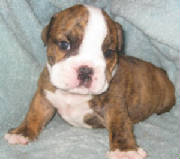 SUGAR is sweetening the Stafford's home in Potomac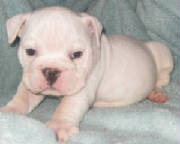 Chet & CONAN are taking on NY together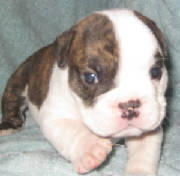 Matt & Julie made off with BOO BOO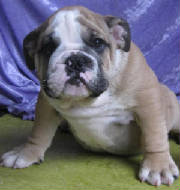 GUNNER is romping with the Taplins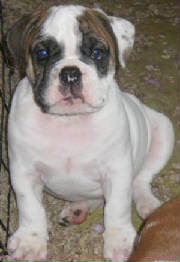 watch for BABETTE in Ashburn with Michael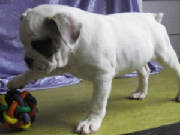 FANNY is having fun in Boston with Lucy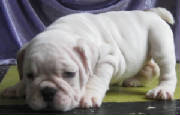 the Davis' are doing the FANDANGO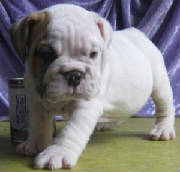 WINONA waltzed off with Jamie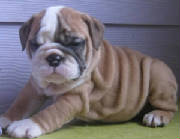 FRISBEE flew away with the Firestones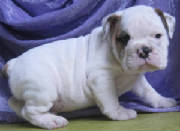 VELVET & VINNIE strolled off with Jackie & Louie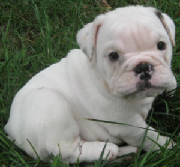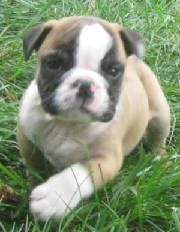 keep an eye out for them in Old Town Alexandria Jason & Mandy swooned for VALENTINO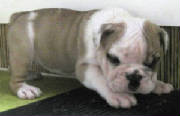 VENUS is with Emily in Richmond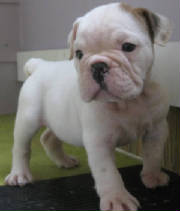 Greg & Carla are under VICEROY's rule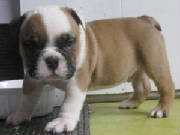 Nick, Paige & Drew will adore DANIELLA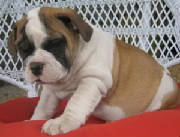 Suzanne & FAITH are going on playdates together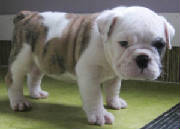 Sean & FIDELIS are going to be inseperable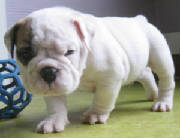 PRESTO...Doug found the perfect boy!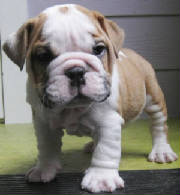 DESMOND will be James' babe magnet in DC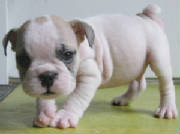 Janemarie & DIXON are taking on the world together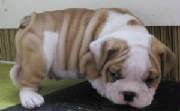 Rachel & PERDITA are going to have such fun!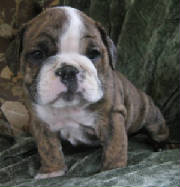 Kurt & Renee couildn't leave without PALADIN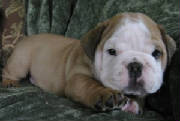 POPPY is the new girl in Alex's life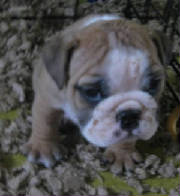 LIVVY cuddled up to Kevin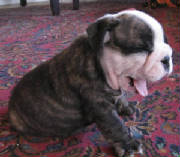 FREDDY was a must have for Catherine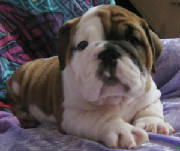 Stephen was warned about FEISTY BOY :)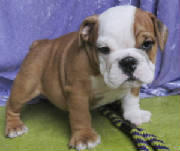 FELIX Norris is rooting for the Steelers in PA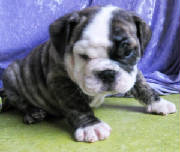 Jessica scooped up the lovely FRANCESCA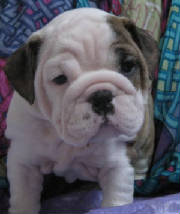 SKIPPER is off to Chesapeake Beach with Charles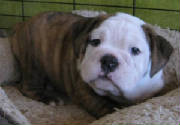 CASEY was scooped up by Elvira & Marco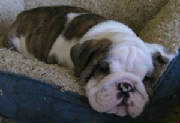 Meagan & CLEO will make a great pair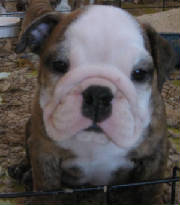 Jerome & JAGGER will make the ladies swoon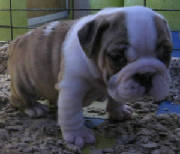 ULYSSES is a Harrington now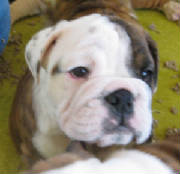 ZOOMER zoomed off to Alexandria with Lora & Alan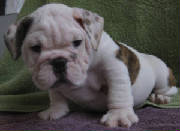 Claire & John waltzed off with WALLABY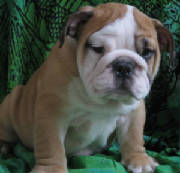 the Sweeney's found their perfect boy: LIVINGSTON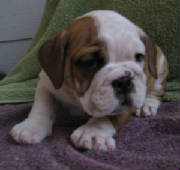 ZINNIA was meant to be Anna's cuddlebug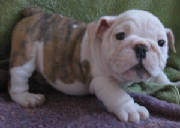 KEWPIE was purchased by Owens Bulldogs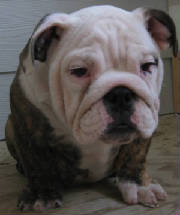 She will start her show career this Spring QUIN is such a little lady I'm keeping her with me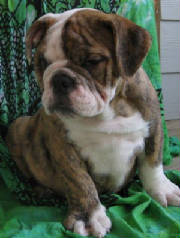 watch for her pups in late 2011 I was talked out of ZIGGY by Jan & Charlie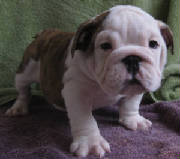 Tim & Shannon think PENELOPE is the sweetest ever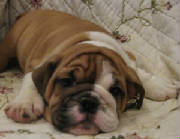 PETUNIA is Todd's new girl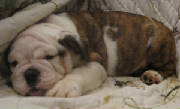 POLLYWOG and LACEY went off together with Clyde...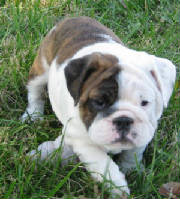 watch for them to be showmodels for him at www.talonmotorsusa.com GUINNESS got to go home with Ian & Brittany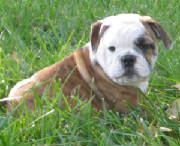 JOPLIN is off to the Kim household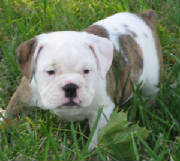 FIONA is SOLD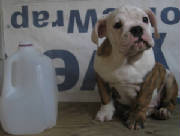 FLETCHER is SOLD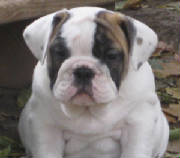 REMINGTON went to join LILY at the Nugent's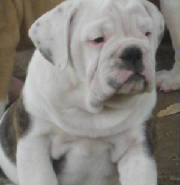 TATER has found his perfect mom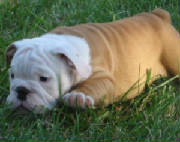 Thank you Monica for taking on this "special needs" little boy GLORY is SOLD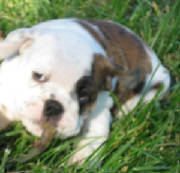 GOOBER is Misty's sidekick at BlueRidgeVet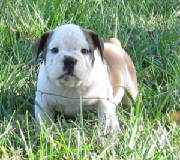 GUSSIE is SOLD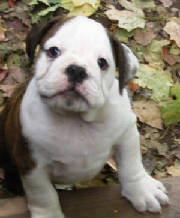 LEVI is SOLD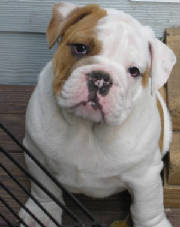 LUCY is SOLD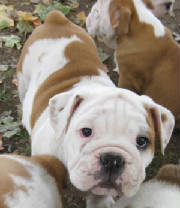 MIGHTYMOUSE is SOLD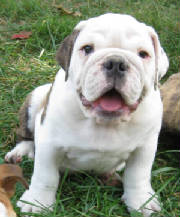 TANK is SOLD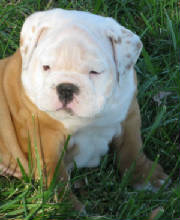 THOMAS is SOLD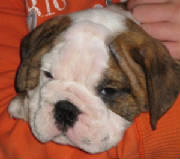 DJINN gets to play with Patrick's boys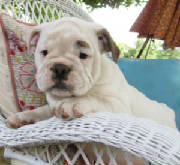 Nitro/Que breeding MORRISON hangs with Ian at his college frat house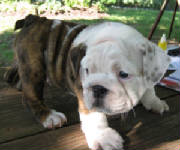 Sarge/Jessy breeding MCKENZIE is in Ashburn with Randy and family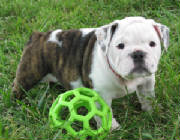 Sarge/Jessy breeding MAXIMILLIAN is Debi's handsome boy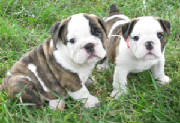 MINNIE is off with the Jordans...both are Sarge/Jessy breeding CHARLIE is David's best buddy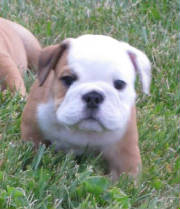 Sarge/Foxy breeding ZIGGY went off with the Chambers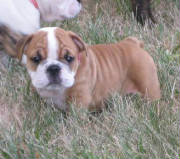 Sarge/Foxy breeding CODY went home with Daniel & Jean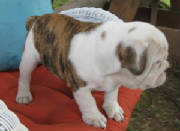 Nitro/Que breeding EDIE is SOLD to Scott & Keri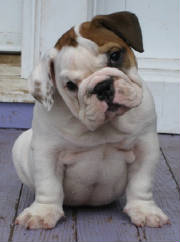 Tootsie's line FRICK & FRACK are with the Cullens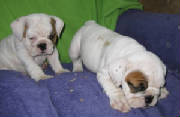 Nitro/Lucerna breeding on both Dan has chosen SCRAPPY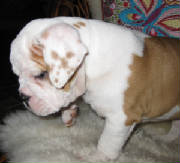 Muchata/Tilly breeding Kobe (BittyBoy) is Debra's best friend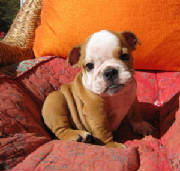 BOO (Murphy) is Therese's little guy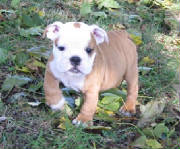 DOLLY belongs to Natalie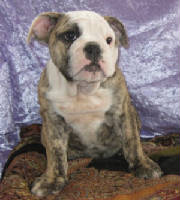 Nitro/Panda breeding COOKIE went home with Lee & Katie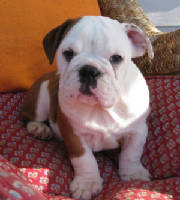 Muchata/Tilly breeding SARGE found his home with Felicia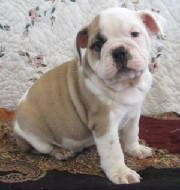 Nitro/Atlantis breeding BUMBLE is Brendan's big guy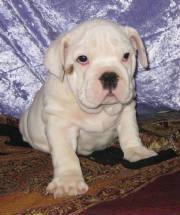 Muchata/Ruby breeding JEEVES is a part of the Sullivan family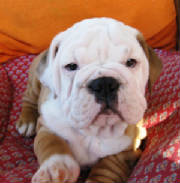 Muchata/Tilly breeding ARMANI is SATCHMO & has stayed at Sugarplum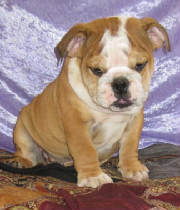 Nitro/Panda breeding KITTY will be for Kyle's mom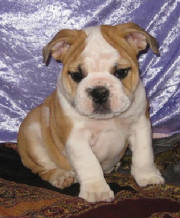 Harley Jr./Snowball breeding SOPHIA is a part of the Newman family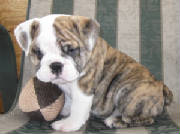 Nitro/Panda breeding Sassafrass belongs to Heather and Matt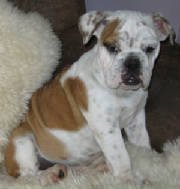 Muchata/Ruby breeding MAC is Casey's sidekick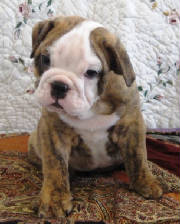 Muchata/Ruby breeding BELLE in at home with DIESEL and the Adams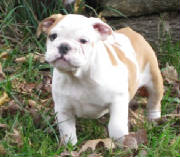 MOOSE (Meatball) is a member of the Dunn family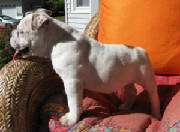 Thad/Tail breeding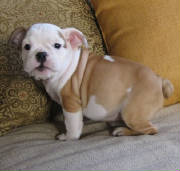 ROSIE is sold to Char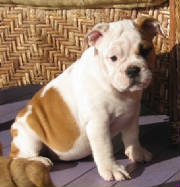 Harley/Cleome breeding WINSTON belongs to Kathy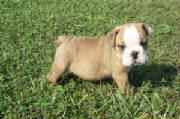 Muchata/Tilly breeding